CDO England's COVID-19 webinar: exit strategy for dentistry will need to be agile to respond to second wave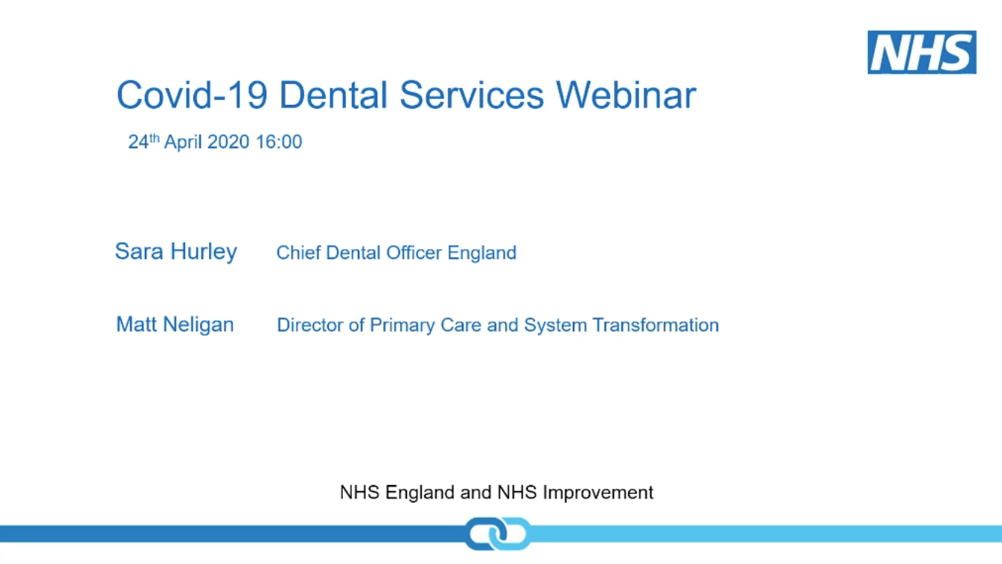 That was one of the key messages in the latest webinar held last Friday (24 April) by Sarah Hurley, CDO England, and Matt Nelligan, director of Primary Care and System Transformation.
According to this second CDO webinar, 'normal business' is unlikely to return beyond the end of June.
But Sara Hurley said that NHS England is beginning to think about the opportunities as to how it might consider reintroducing elements of dentistry over and above urgent dental care in a safe and appropriate way.
This also has to be in accordance with guidance from Public Health England as 'they shift on the issue of social distancing'.
She suggested this might involve the opening up of practices to offer a limited range of non-aerosol procedures 'based on risk and the appropriate PPE'.
She added: 'It might also involve the development of low risk or preventatively focused activity, including screening and advice related to wider health issues.'
Recognising the challenges to the profession and the disruption it causes with the cessation of high street dentistry, the CDO England paid tribute to the personal commitment of those dental professionals involved in the redeployment to 111 and UDCs amid sometimes unwarranted aggression from frustrated patients in pain that, she suggested, was often the 'manifestation of the stress'.
Acknowledging that there might be big surges in demand after delays in dental care, she suggested that the availability of testing for patients and professional alike, alongside various other public health measures, need to be in place before services can be resumed.
She said routine use of rubber dam with aerosol-generating procedures (AGPs) would also be a firm recommendation, as it is in Australia, while PPE level 3 with 30-minute intervals would also be required – with serious implications financially as well as clinically.
The CDO England is having 'weekly webinars' with the BDA, FGDP(UK) and the Royal College of Surgeons' Faculty of Dental Surgery and said that information about these is being cascaded among its members.
There are currently 264 Urgent Dental Care centres operational, despite the challenges of lack of PPE and delays it fit testing FFP3 masks.
Whilst most PPE is now readily available, fit testing continues to be an issue and there is also a shortage of gowns, which could be a 'rate limiting factor for us' she said.
The BDA and NHS England are now collaborating in a joint endeavour to create a pan-England UDC reporting tool that, from 1 May, will capture information about urgent advice, the triaging process and activity and service pressures, such as PPE and workforce.
UDCs are not open access centres and access for patients is available only via local triage, which means their location is not in the public domain – critical for protecting patients and maintaining social distancing, Sara added.
She also urged listeners to take up the offer of an NHS.net account – available for private practitioners, too.
To do so, visit https://portal.nhs.net/Registration#/dentistry. For help, email Exeter.helpdesk@nhs.net.
Matt Nelligan, director of Primary Care and System Transformation, said there were a handful of significant issues that need to be addressed.
The 2019-20 contract period will run 11 months from April 2019 to February 2020 and Matt suggested some flexibility in adding a 12th month into the equation.
NHS England is providing 1/12th of annual contract value to every practice and in respect of NHS activity and, in return, is expecting practices to do the following:
Provide telephone triage
Keep manual records initially
To assist in UDCs where possible
To maintain payment of staff for NHS commitment
Make every reasonable effort to support staff to redeploy.
Regarding private practices, Matt said NHS England can only address the NHS part of the dental business, which 'presents a challenge'.
Practices are eligible to seek government support only for the private proportion of their practice.
When it comes to patient charges, no charges apply to telephone triage but do when providing urgent dental care.
Regarding contract delivery for 2020-21, he said they are still finalising arrangements and further information will follow.
Matt also promised to give reasonable notice of the end of this period but variables make it likely the current arrangements will continue for some time – at least until beyond the end of June.
Regarding adjustment for variable costs, the principle behind the set of arrangements that they have put in place is that they maintain stability of payment for practices that allows practices to carry on employing staff,
He added that they recognise a number of variable costs, such as consumables, are not being incurred by practices and they will make an adjustment to payments that will be applied retrospectively. Matt said they rapidly need to agree that number and that they have had constructive discussions with BDA – a fair and proportionate number that is evidence based.
According to the webinar, there have been 43,667 hits on NHS England's COVID-19 dental documents on its website and said that many of the questions from the first webinar were used to form the information now available.
To listen to the full webinar, click here