Out with the old, in with the new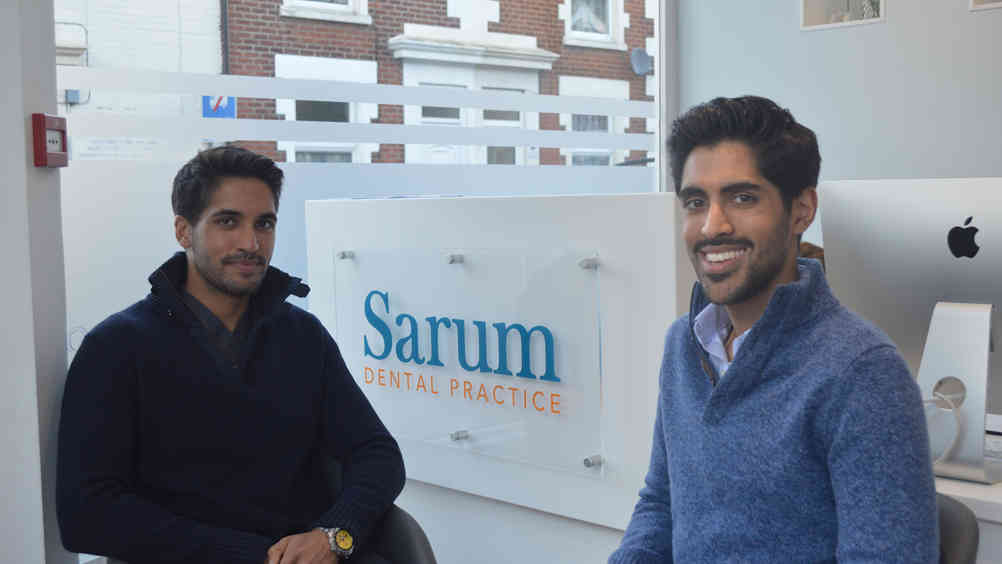 With a family history in dentistry, no one was surprised when brothers Rajan and Neal Mehta decided to follow in their father's footsteps. Attracted to the clinical challenges of dentistry but also the potential of running their own business, both studied at Cardiff University with Raj graduating in 2010 and Neal, four years later.
Both keen to establish themselves in their own right, it wasn't long into their dental careers when they decided to seek out a practice of their own. With London being desirable but unaffordable, the search for the right premises took them west to the quintessentially English cathedral city of Salisbury and a practice in need of an overhaul.
Originally established in 1985, Sarum Dental Practice was housed in an old building which was formerly a confectionery and betting shop. Neal remembers, "Our first impressions were of a long established practice with equipment that needed updating but despite this, the place seemed well organised and the practice had a good feeling about it. We thought it had potential and it just seemed this was the right opportunity for us."
With Raj starting as an associate until the CQC approvals were in place, the pair officially took over ownership in July 2015. Although it might have been tempting to launch straight into a refurbishment project Raj and Neal decided against changing anything in the short term and instead focussed their attention on getting to know their patients. Due to ill health the former practice owner had handed over the day to day running to associates and locums, leaving patients feeling a little unsettled. The brothers knew they would have to work hard to reassure their patients, establish trust and build up their books.
It was some two years later that the possibility of refurbishment came back on the agenda with the brothers feeling that the timing seemed right. To help them realise their plan Raj and Neal looked to the market for builders and equipment suppliers and selected Hague Dental to complete the entire project. "We didn't have a fixed idea about awarding the building work and equipment supply contracts separately or as a single project. After considering the options we chose Hague Dental to complete the whole project. We were persuaded that having one single point of communication would avoid the possibility of getting caught between two contractors if anything went wrong; the quote was very competitive too."
Neal details the brief, "The practice felt slightly dated and the space didn't flow. Our premises is narrow but very deep so we have plenty of space to work with but the configuration of the hallways and rooms was not ideal. The first issue to address was the flow of the space and we wanted to incorporate a fourth surgery. With the old decontamination room right in the middle of the patients' walkway to the surgeries, walls had to be moved and the whole place needed opening up to let in more light."
The equipment also needed a complete overhaul. Raj explains, "The surgeries still had the old barber shop style Belmont dental chairs which is a great testament to their longevity, but not suitable for the requirements of today's dentistry and cross-infection control. Our decision to replace them with their modern day counterparts was straight-forward. I have used Belmont chairs at my father's practice and in my opinion their great reputation for reliability and value for money certainly holds up. We chose two ambidextrous Voyager II, and two Cleo II folding leg-rest chairs. The Voyager II chairs are really flexible in their configuration so good for use by both dentists and hygienists. We opted for the Cleo because of its upright position and ease of access, making it ideal for our elderly patients whilst facilitating communication between the patient and dentist. Because of their compact footprint they were perfect for our smaller surgeries. One of my cousins, also a dentist, said 'You must buy a Cleo, you won't regret it' and so far he's been right."
Completed in November 2016, the project took almost five months to finish whilst the practice stayed open throughout. Neal and Raj reflect on where they are now, "It has taken us a lot of time, persistence and effort to get patients on board and to build up trust but we are pleased to see that patient numbers are growing steadily month on month. We are both really happy with the changes to the building. The refurbishment has transformed the practice into a modern, bright and light space, which feels much more open and welcoming and was certainly worth the upheaval. We still have a lot to do but now we have the foundations of a modern practice on which to base future development."