Five-star reviews for new dental video made by and for children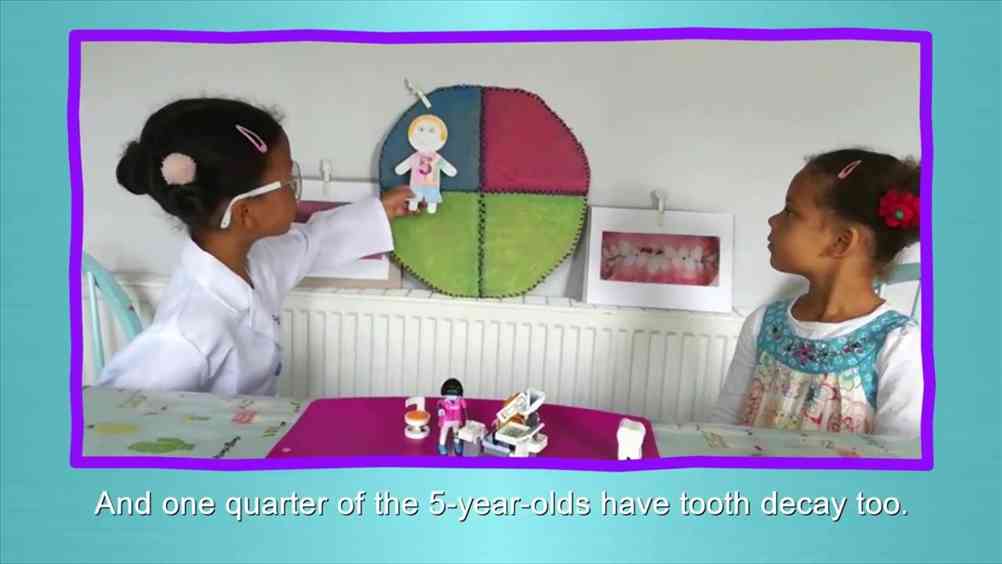 A new video has been made to explain treatments for dental decay in children – with the video production being led by a team whose members are aged between three and eleven years old.
With just a little bit of help from the staff of the School of Clinical Dentistry of the University of Sheffield, as well as a professional film editor, the young team of producers, directors, actors and editors have created a six minute video which focuses on silver diamine fluoride (SDF) as a technique for arresting dental caries.
Two adults feature in the film. One is Professor Paul Hatton, a materials scientist, who filmed himself in his lab at the University of Sheffield. The other is paediatric dentist Laura Timms, the academic clinical fellow who was instrumental in making the video, having been awarded a grant of £5,460 jointly by the Faculty of Dental Surgery (FDS) of the Royal College of England RCS (Eng) and BSPD for her proposal.
In 2019, Laura decided to research SDF and, with colleagues in Sheffield and Newcastle, wrote a paper examining why SDF is not being used more widely in the UK. Working with the trainee group that she belongs to, Connect Trainees, she led a research project exploring paediatric dentists' attitudes to SDF and in May 2020 she delivered a webinar on the topic to the group. She also produced BSPD's resources on SDF which are now available on its website.
Explaining how the video was made, Laura said, "We sent the children and their parents a child-friendly instruction pack with visual and written information about tooth decay and treatment options, along with modelling clay, a toy dental surgery and other dental props to use as they liked. We asked them to explain dental decay and how it's treated and to describe SDF. Within that brief, they were given a completely free rein."
Initially, she said, they had four hours of filmed activity which was gradually edited down to six minutes, with the children directing what they liked and didn't like. As an example of the children's input, a seven-year-old created her own pie chart to illustrate the extent of dental decay in children. Also, to illustrate dental decay, they were given a colour photo showing a palatal view of a child's teeth. However, unlike dentists, the children were not familiar with this view and requested one that showed a child's smile from the front. The children's creativity and expertise were really impressive, Laura said, and covered everything from their outfits, to the music and the graphics.
She added, "I chose to do paediatric dentistry because children are so interesting and funny. I love hearing what they have to say. I thought I had a good idea of what they would do with the filming, but I was overwhelmed when their videos came in."
Professor Helen Rodd is a Sheffield-based consultant in paediatric dentistry, one of Laura's supervisors and the producer of the video. She said the children's insights on how to explain SDF had been really valuable. "Although due to the lockdown the audio and visual quality is not as good as we could have achieved with a professional film crew, I am absolutely sure the content is better than it would have been if we had worked with them as originally planned because the children made so many of the choices themselves."
She said the next step would be an evaluation of the video by a different group of children and then they would recruit a third group of children who would help edit the video further for use in a planned feasibility study of SDF in primary care.
In the meantime, the Sheffield team hope that the video will provide accessible information about SDF for children and their families so they can make informed choices about treatment for decayed primary teeth.