Maintaining the safety of your dental practice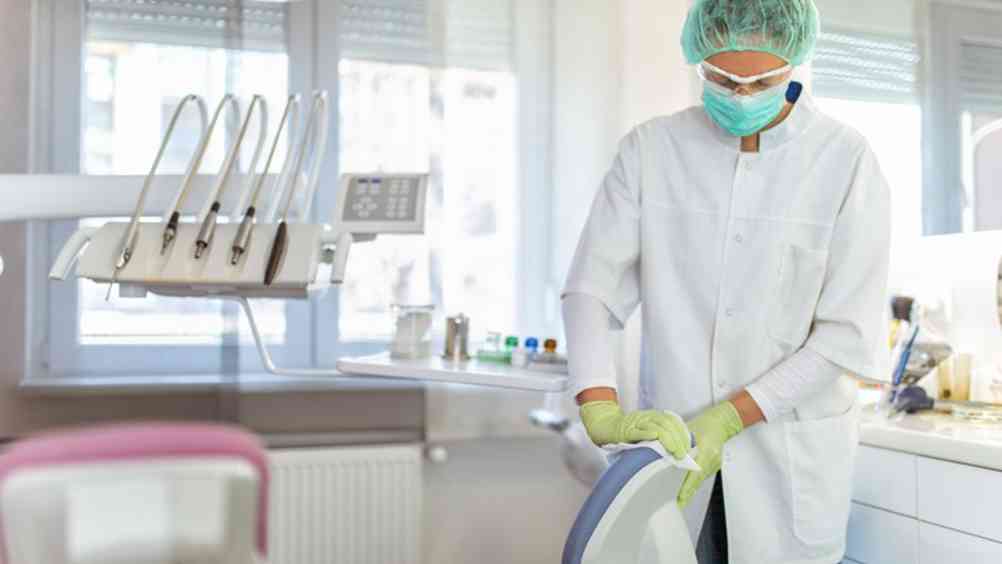 What is Citrox Protect?
Developed by leading British scientists from Citrox Biosciences, Citrox Protect is the world's first natural, eco-safe solution that provides a 3D microbiota barrier designed to protect non-porous surfaces from cross-infection. Simply spray and wipe the product onto your chosen surface to effectively combat contaminants.
Citrox Protect combines silicon dioxide (SiO2) – otherwise known as "liquid glass" – with Citrox, which is a natural anti-microbial agent extracted from citrus fruits. The SiO2 creates a barrier to prevent micro-organisms from being absorbed by treated surfaces, whilst Citrox inhibits the growth of potentially harmful pathogens such as bacteria, viruses and fungi.
To ensure a highly effective result, Citrox Protect offers multiple modes of action. For instance, it is designed to fill and seal the microscopic valleys and craters of treated surfaces, creating a smooth, hydrophobic coating that repels fluids for optimal moisture control. This also creates an anti-adhesive environment that can help minimise the risk of cross-contamination. Due to a formula rich in natural compounds, Citrox Protect is hypoallergenic without being toxic, corrosive, oxidising, mutagenic or carcinogenic.
Moreover, Citrox Protect is effective against a wide range of microbials and has been independently tested against multiple bacteria, viruses and fungi to prove its efficacy and ensure it meets industry standards, including EN14476, EN13727 and EN13624. Citrox Protect can be used to protect surfaces from pathogens such as MRSA, salmonella, E. coli, legionella, HIV, influenza A, and hepatitis A, B, and C.
Where can Citrox Protect be used?
Ideal for smooth, hard and non-porous surfaces, Citrox Protect can be applied to all high-risk touchpoints within the dental practice. This includes chairs, desks, treatment centres, worktops, taps and sinks, cabinetry, door handles, light switches, card readers, and various touchscreens (for example, computer screens, televisions, tablets and mobile phones).
Due to high levels of wear and tear caused by footfall, Citrox Protect is not suitable for use on floors as the integrity of the protective coating cannot be guaranteed. Any surface that is treated with Citrox Protect should continue to be regularly cleaned after application. However, this must be carried out using products with a pH value of between 3 and 12 in order to maintain the quality of the Citrox Protect coating.
Surfaces that are coated with Citrox Protect are touch dry in just 20 minutes and fully sealed within 24 hours. Subject to appropriate cleaning regimes and acceptable wear and tear, Citrox Protect ensures non-porous surfaces are protected for up to six months – the longest ongoing protection on the market. The chemical-free, non-toxic nature of Citrox Protect means that the product can even be applied to food preparation surfaces, and is also safe for use on technology, as approved by Microsoft.
Leading cleaning and environmental service provider, Mitie, is already using Citrox Protect successfully as a surface cleaner and protectant for brands such as Vodafone.
Commenting on this revolutionary product, James Gilding, managing director of cleaning services at Mitie, says, "As we tackle the challenge of 'getting Britain back to work', we need a multi-layered approach to safety and hygiene throughout a building. Citrox Protect offers us a key weapon in our cleaning regime and enables us to keep hard surface touchpoints clean and sanitised on a semi-permanent basis, without the need to change a normal cleaning process. Additionally, the confidence that the product and the Citrox brand give to our customers is a valuable part of ensuring people feel safe and secure in their working environment."
Dental teams can keep themselves and their patients safe by using Citrox Protect to treat multiple surfaces in various areas of the practice – from reception, to the dental surgery and decontamination room. With a powerful formula containing natural agents, Citrox Protect helps to reduce microbial build-up on surfaces for up to six months, ensuring a significantly reduced risk of cross-contamination to support stringent infection control protocols.
For more information call 01480 862084, email info@curaprox.co.uk or visit www.curaprox.co.uk