Polyether innovation from 3M: How to capture every detail in just two minutes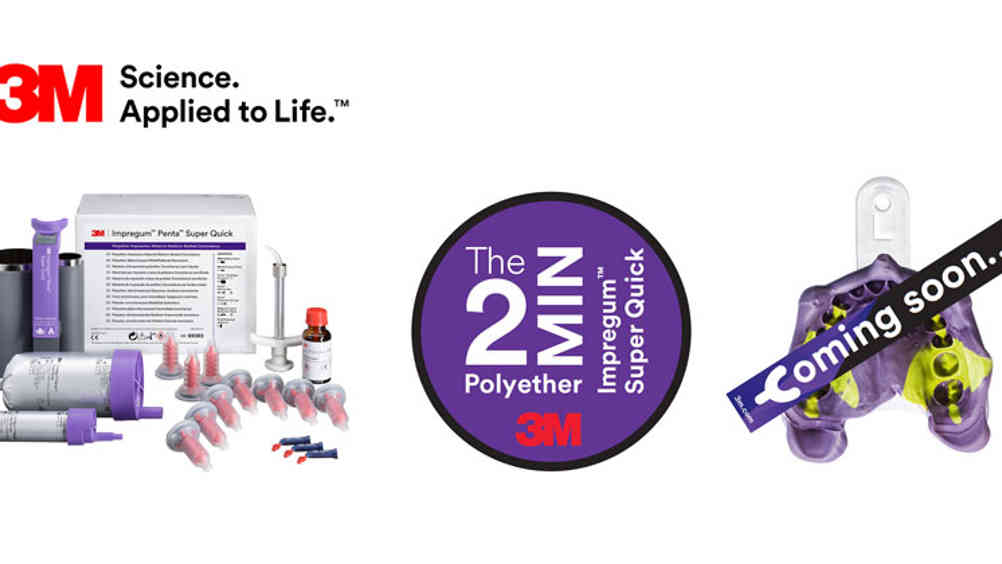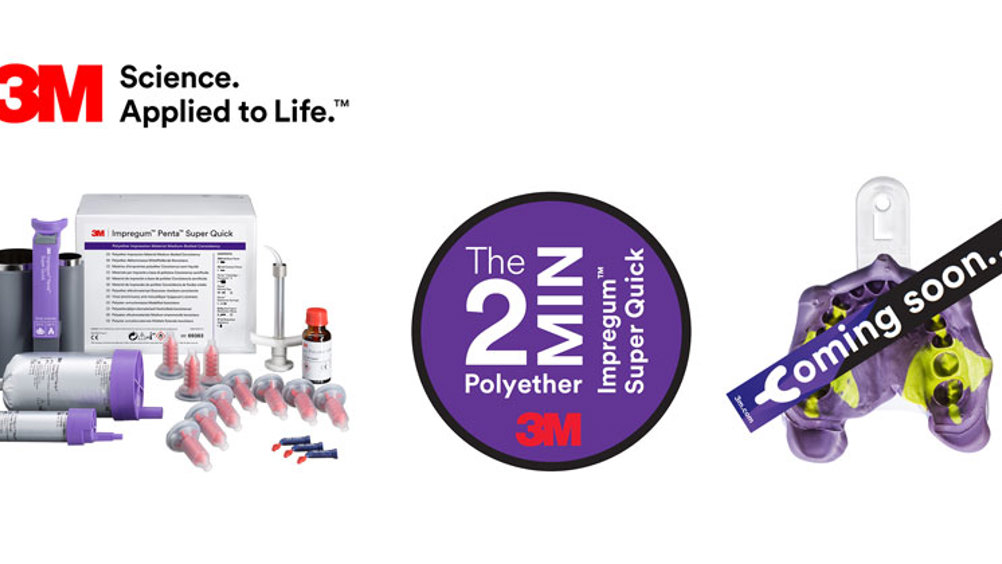 Not only can it save time and effort in the dental office and laboratory, but it can also save the patient from potential remakes. New 3M Impregum Super Quick Polyether Impression Material – the first true superfast polyether – combines the trusted performance and reliability of a polyether with the speed of a VPS.
New Impregum Super Quick Material is available in two consistencies, medium and light body, and can be used in the monophase and 1-step impression techniques. Both materials have a working time of 45 seconds and an intra-oral setting time of two minutes, making them perfectly suited for single-unit restorations like crowns, implants, inlays/onlays and smaller bridges up to three units. The short intra-oral setting time combined with a significantly improved fresh, minty taste provide increased patient comfort. The new material also has the trusted polyether benefits: moisture tolerance, great flowability and a consistent flow throughout the whole working time. They ensure highly detailed and accurate impressions.
According to chief developer Dr. Joachim Zech during the 3M event at ACTA, "accelerated working and setting times and an improved taste and smell, are the essential innovations 3M Impregum Super Quick Polyether Impression Material has to offer". The material is particularly suited for use in smaller cases. The hallmark polyether properties such as intrinsic hydrophilicity, unique flowability and specific setting behaviour remain unchanged.
Results of in-vitro studies that confirm these claims were presented by Joachim and Dr. Barbara Cerny (Global Scientific Affairs Manager at 3M), who also summarised the outcome of a field evaluation with 550 dental practitioners. After having tested Impregum Super Quick Material in the clinical environment, the respondents were "highly satisfied with the performance of the material in general." Top ratings were also received for the precision of the impressions, the colour and taste of the material, and the shorter working and setting times.
The information given by the 3M team was complemented by an external perspective. Pilot user Marcus Engelschalk, owner of a joint practice in Munich, Germany, shared his initial experience with the other participants. He is an enthusiastic user of an intraoral scanner, but still relies on conventional impression materials in specific situations. With regard to Impregum Super Quick Material, he was "most deeply impressed by its accurate reproduction of detail and overall precision." The participants tested the new polyether in a workshop, and were impressed by its minty smell, pleasant taste and easy handling.
According to Akit Patel of Perlan Specialist Dental Centre, "Impregum Super Quick has met the unprecedented anticipation for a new polyether. It features the same properties as the original Impregum Penta material, but now with a new patented initiator offering a 50 per cent quicker set time, improved taste and high precision. It is the perfect addition to the portfolio of Impregum materials in my surgery and is already now the default material for impressions of single teeth or implants."